Restaurant THE BOLLICINE
Authentic Italian Cooking and Fine Dining
NOTE: changed opening hours 21.03.-02.04.2023
Sunday-Tuesday: closed
Wednesday-Saturday: 18:00-22:00 o'clock (6:00 pm-11:00pm)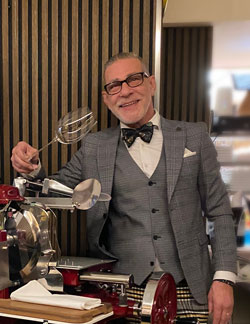 We are delighted to have Francesco Toro as a partner for the former club restaurant of Gerd Kastenmeier, located on the 5th floor of the Residenz am Zwinger. Now, everyone has the opportunity to enjoy the unique view of the old town of Dresden.
The Sicilian-born gastronomist is passionate about his craft and was even once the European champion in oyster opening! A weekly changing menu is mandatory for him, so guests can look forward to culinary variety.
Every guest who dines with him at least 3 times will even receive their own personalized steak knife. The skilled gastronomist opens oysters directly at the table, showing off his European championship title.
The restaurant is open from Tuesday to Saturday from 11:30am to 2:00pm and from 6:00pm to 10:00pm. During the week, there is a business lunch for €26.50, which should be especially pleasing to working gourmands. Those who feel like a snack or a glass of wine after visiting the Semper Opera House are also very welcome.
For those who may wonder what "BOLLICINE" actually means, Mr. Toro explains that it is the term used in Italy for the bubbles in champagne, prosecco or sparkling wine.
If you are now tempted to visit, you can reserve a table here:
E-Mail: restaurant@thebollicine.net
Telephone: +49 179 618 769 0
Impressions of the restaurant
Roof Terrace Pictures
From the roof terrace, you can enjoy the most beautiful view of Dresden. A small cigar lounge is available on the roof terrace, where you can enjoy a fine cigar – even in bad weather.
The most important at a glance
Authentic Italian Cooking and Fine Dining
Business Lunch Tuesday-Friday
Roof Top Terrace with unique view
Fine wine
An exquisite wine selection is waiting to be discovered by you.
Cigar lounge
You smoke cigars? No problem! Use the cigar lounge on the roof terrace.
Opening times
Tuesday-Saturday: 11:30-14:00 oclock & 18:00-22:00 o'clock
Monday & Sunday: closed